WordPress is a free and open source website software tool that has been around for about ten years. It was originally developed as a blogging tool, but through the years it has evolved. Now it is a sophisticated site construction software and content management system (CMS) for websites.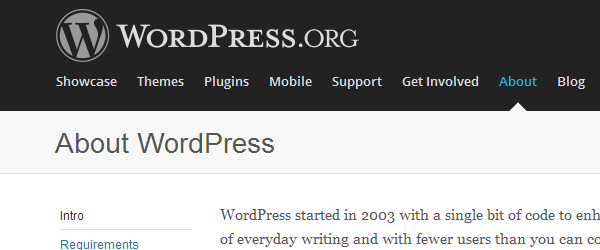 It is built on two also open source technologies: PHP, a scripting language, and MySQL, a database primarily used over the Web.
You can now use WordPress to develop anything from a simple blog site to a complex ecommerce solution, with just about anything else in between. Indeed, it has become more popular than other CMS open source tools such as Joomla and Drupal, which were developed as CMS tools from the start.
There are two options:
WordPress.com is a free blogging platform (similar to Blogger and others), where you get a domain such as Yourblogdomain.WordPress.com (unless you pay to use your own domain). It is limited in its customization.
WordPress.org is the website where you go to download the actual software, which then you run in your own server (such as one you buy from GoDaddy, Bluehost, or others). You can also get some free themes and all kinds of plugins to use with the software. Themes and plugins are custom functions and features to enhance your website.
I am not going to go into the details of the differences between them. Just google WordPress.com vs. WordPress.org and you will get plenty. Let me tell you that I visit many blogs and websites daily and suffice it to say that none are in WordPress.com. Some estimates have calculated that close to 25% of all websites in the world are WordPress sites.
What do you need to get started?
My first recommendation is that you stay away from most of the free stuff. I mentioned some good exceptions above. Free themes and plugins are generally not a good deal. You get what you pay for. Plugins are the exception. Many excellent plugins are free and I will be reviewing them in time.
Some very good themes are free as well, starting with the themes that come with the software. The newest theme that comes free is the Twenty Twenty-Three theme, a responsive magazine-style theme. Whichever theme you choose for your website, you will want to use a "responsive" theme.
Responsive themes adjust automatically to the size of the screen of a web browser. They look good in any computer monitor, tablet or smartphone.
Can WordPress operate a big website?
Indeed it can. Many large companies and organizations use WordPress to handle their websites. Some examples at the time of this writing:
The corporate site of the New York Times Company
Conclusion
WordPress is today one of your best bets as a platform to start and run a website of any kind. Can you manage a WordPress website if you are not a very technical person? The answer is: it depends. If you are definitely a non-technical person (i.e. the only features you know how to use in your smartphone are making a call and checking Facebook) you will probably have problems managing WordPress or any other website for that matter.
With WordPress, most people are able to add a blog post or a page, insert an image, or edit text. However, if you are going to manage your own WordPress site you have to be able to do more advanced things such as keeping your site secure and up to date.
You will need to understand how to update WordPress, the themes and the plugins. You should always backed up your website for security. This way if it gets hacked or otherwise becomes not functional for whatever reason may restore it from the backup. Otherwise, you will lose all your work and will have to start from scratch.
Of course, this is true for any website that runs on other platforms as well. If you are not willing to do this because of your technical abilities or because of time constrains, get help and hire somebody like me.
Hits: 1002